UPCOMING JUMMA'AS:
December 22nd, 2017
RSVP HERE for our next jumma'a on Friday, December 22nd @ 1pm in downtown LA at our NEW LOCATION with khateebahs Maha Elgenaidi and Connie Highberg! They will be sharing their reflections on the need for female religious leadership and scholarship.
Free babysitting is available upon request – RSVP today!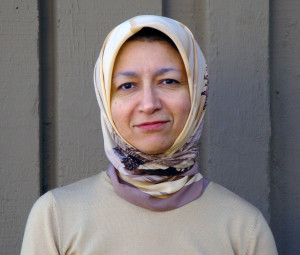 Maha Elgenaidi is the Executive Director of the Islamic Networks Group (www.ing.org), a non-profit organization with affiliates and partners around the country that are pursuing peace and countering all forms of bigotry through education and interfaith engagement while working within the framework of the First Amendment's protection of religious freedom and pluralism. Maha received an M.A. in religious studies from Stanford University and B.A in political science and economics from the American University in Cairo. She has taught classes on Islam in the modern world at Santa Clara University, Stanford University, and the University of California at Santa Cruz, and has been recognized with numerous awards, including the "Civil Rights Leadership Award" from the California Association of Human Relations Organizations and "Citizen of the Year Award" from the Santa Clara County Board of Supervisors.
Connie Highberg is a lifelong Southern Californian and recently retired high school AP Economics teacher. She has been attending The Women's Mosque of America since the first Jumma'a service in January of 2015 and proudly recited shahada at the WMA that summer during Ramadan. As a lifelong feminist and veteran in the fight for women's rights, her unexpected conversion to Islam at the age of 60 has presented a challenging reconciliation of two conflicting cultural experiences. She credits The Women's Mosque of America and the brave women who are carving out a space of scholarship and leadership in the Muslim Ummah for empowering her in this beautiful journey.
She enjoys playing flute and guitar, line dancing, knitting, volunteering with the ECRCHS Academic Decathlon team, and riding her beautiful little Harley Davidson 883 Sportster named Pearl.

– – – – –
Please sign up for our newsletter to find out details about our upcoming jumma'as and co-ed events!
Each of our women-led, women-only jumma'as costs approximately $1,500 to put on every month, including the cost of rent, security, insurance, babysitting, sound engineering, and video recording. If you would like to sponsor a jumma'a in whole or in part, please email WomensMosqueAcctg@gmail.com or donate on our Home page.