UPCOMING JUMMA'AS:
November 24th, 2017
RSVP HERE for our next jumma'a on Friday, November 24th @ 1pm in downtown LA at our NEW LOCATION with khateebah Maria Khani! She will inshAllah expand on the topic introduced last month about Qur'an-focused Islam.
Free babysitting is available upon request – RSVP today!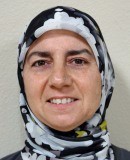 Maria Khani is a Syrian American who was born in England and lived in France, India, Syria and Holland. She earned her Bachelor of Arts in French Literature from the Damascus University in Syria.
Khani has been a board member at Access California Services since 1998, a nonprofit family resources center in Anaheim, serving Muslims, Arabs and various other ethnic groups.
Maria taught at the Islamic Institute of Orange County for 20 years and served as the chair of the women committee.
Interfaith has always been a key component in Khani's life. She is a board member of the Orange County Interfaith Network, OCIN — the umbrella of thirteen interfaith councils in Orange County. Maria is also an active member in three interfaith cities' councils.
In 2008 she joined the Los Angeles Sheriff's Department as a chaplain, and in 2015 Maria serves as the Senior Muslim Chaplain. In 2014, Khani became the Muslim chaplain for the Orange County Sheriff's jail.
In 2012, Khani and her daughter together founded "A Country Called Syria", an exhibit dedicated to educating the American public on Syria's rich history and culture, as well as its valuable contributions to the world. The exhibition has toured across Southern California and in 2016 A Country Called Syria became a (501) (c3) non-profit organization.

– – – – –
Please sign up for our newsletter to find out details about our upcoming jumma'as and co-ed events!
Each of our women-led, women-only jumma'as costs approximately $1,500 to put on every month, including the cost of rent, security, insurance, babysitting, sound engineering, and video recording. If you would like to sponsor a jumma'a in whole or in part, please email WomensMosqueAcctg@gmail.com or donate on our Home page.