NEXT JUMMA'A: March 31,2017
RSVP HERE for our next jumma'a on Friday, March 31st @ 1pm in downtown LA with khateebah Sister Dalal Hassoun. FREE BABYSITTING is available upon request – RSVP today!
Introducing Our Khateebah: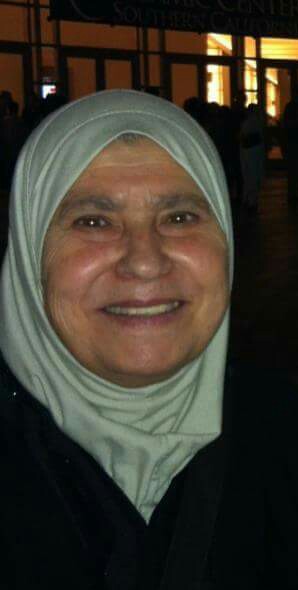 Sister Dalal Hassoun was born and raised in Syria where she lived with her parents and four siblings. Her brother provided her with a solid foundation in Islam and always encouraged her to read, learn, and question everything in order to have a better understanding. The book became her friend and she tried to read as many books as she could to increase her knowledge. She took part in leading the first women-led Islamic halaqas (spiritual study circles) in Syria when she moved to Damascus in 1967, and she continued to attend women's halaqas to increase her Islamic knowledge. She got married when she was 17 years old and had six children whom she raised to have the same passion for knowledge and to pursue higher education. Even though circumstances prevented her from higher education, she continued to pursue knowledge and educated herself in Islamic studies and continued to be a leader in her community. In addition to education, Sister Dalal is also very passionate about helping those in need, and she has led efforts to do so in her community for more than 35 years. She is a student of the nonviolent activist Jawdat Said, and she always spreads his message. Sister Dalal moved to America in 2011 after she participated in one of the first silent women's protests in Syria and had to leave the country for her safety. Since then, she has continued to spread her knowledge and ideas on Facebook. She has posted many opinion pieces such as book summaries and reflections on different topics to help educate others. Sister Dalal continues to advise and help the younger generation through her social media, and her dream is to see peace all over the world.

– – – – –
Please sign up for our newsletter to find out details about our upcoming jumma'as and co-ed events!
Each of our women-led, women-only jumma'as costs approximately $1,500 to put on every month, including the cost of rent, security, insurance, babysitting, sound engineering, and video recording. If you would like to sponsor a jumma'a in whole or in part, please email WomensMosqueAcctg@gmail.com or donate on our Home page.