The Women's Mosque of America is proud to provide a platform for brilliant Muslim women to speak in a religious capacity for the benefit of the entire Muslim Ummah. Each of our khateebahs brings her own unique first-hand perspective and insights to topics that have either previously gone unaddressed in mosques or that have rarely been spoken about from the female perspective.
To watch video recordings of our khutbahs, please visit our YouTube page. To listen to all our past khutbah audio recordings, please visit our SoundCloud page, or subscribe to our Women's Mosque of America podcast on iTunes. 
Scroll down to read about the amazing women imams who have spoken upon our mimbar.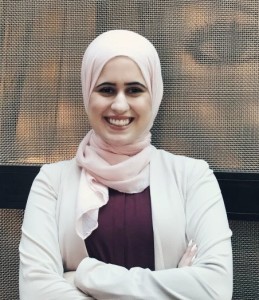 Laila Alawa started her career at the White House and Congress and is the CEO and Founder of The Tempest, the leading tech and media company changing the global narrative of diverse millennial women. She was named to the 2018 Forbes 30 Under 30 list. In 2017, she gave a TED Talk on her work with The Tempest. Since founding The Tempest, Laila has been quoted in nationwide outlets like The New York Times, The Guardian, and CNN Money as a disruptive force in media. She's also the host of The Expose, a weekly podcast tackling tough topics with snark and wit. In 2016, she got her own Snopes page and was a Nominated Changemaker for the United State of Women White House Summit.
Prior to founding The Tempest, Laila was a research specialist at Princeton University, studying socio-cognitive processing under the framework of community identity and belonging. During her time in college, she spent time dissecting stereotype threat for women in the sciences, consumer behaviorism, minority stereotyping and judgment. She is currently working on her first book.
Connie Highberg is a lifelong Southern Californian and recently retired high school AP Economics teacher. She has been attending The Women's Mosque of America since the first Jumma'a service in January of 2015 and proudly recited shahada at the WMA that summer during Ramadan. As a lifelong feminist and veteran in the fight for women's rights, her unexpected conversion to Islam at the age of 60 has presented a challenging reconciliation of two conflicting cultural experiences. She credits The Women's Mosque of America and the brave women who are carving out a space of scholarship and leadership in the Muslim Ummah for empowering her in this beautiful journey.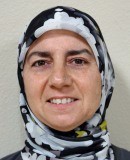 Maria Khani is a Syrian American who was born in England and lived in France, India, Syria and Holland. She earned her Bachelor of Arts in French Literature from the Damascus University in Syria.
Khani has been a board member at Access California Services since 1998, a nonprofit family resources center in Anaheim, serving Muslims, Arabs and various other ethnic groups.
Maria taught at the Islamic Institute of Orange County for 20 years and served as the chair of the women committee.
Interfaith has always been a key component in Khani's life. She is a board member of the Orange County Interfaith Network, OCIN–the umbrella of thirteen interfaith councils in Orange County. Maria is also an active member in three interfaith cities' councils.
In 2008 she joined the Los Angeles Sheriff's Department as a chaplain, and in 2015 Maria serves as the Senior Muslim Chaplain. In 2014, Khani became the Muslim chaplain for the Orange County Sheriff's jail.
In 2012, Khani and her daughter together founded "A Country Called Syria", an exhibit dedicated to educating the American public on Syria's rich history and culture, as well as its valuable contributions to the world. The exhibition has toured across Southern California and in 2016 A Country Called Syria became a (501) (c3) non-profit organization.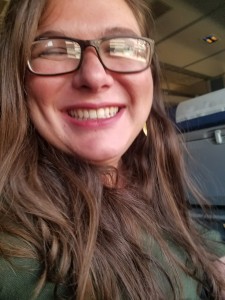 Lubabah Helwani is passionate about an inclusive mosque space, celebrating diversity and inclusivity. She believes in the notion of shared authority as congregant members take turns in giving the call to prayer, delivering the sermon and leading the prayer. In Arabic, Lubabah means close to the heart, which reminds Lubabah on a daily basis, to stay soft.

Lubabah currently works in bioethics at the University of Southern California. Her educational background includes an MS in Medical and Cultural Anthropology with a focus in women's health from the Ash-Sham region from Harvard University.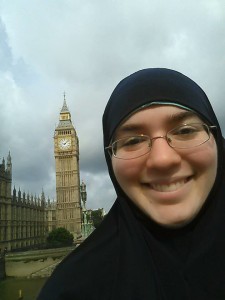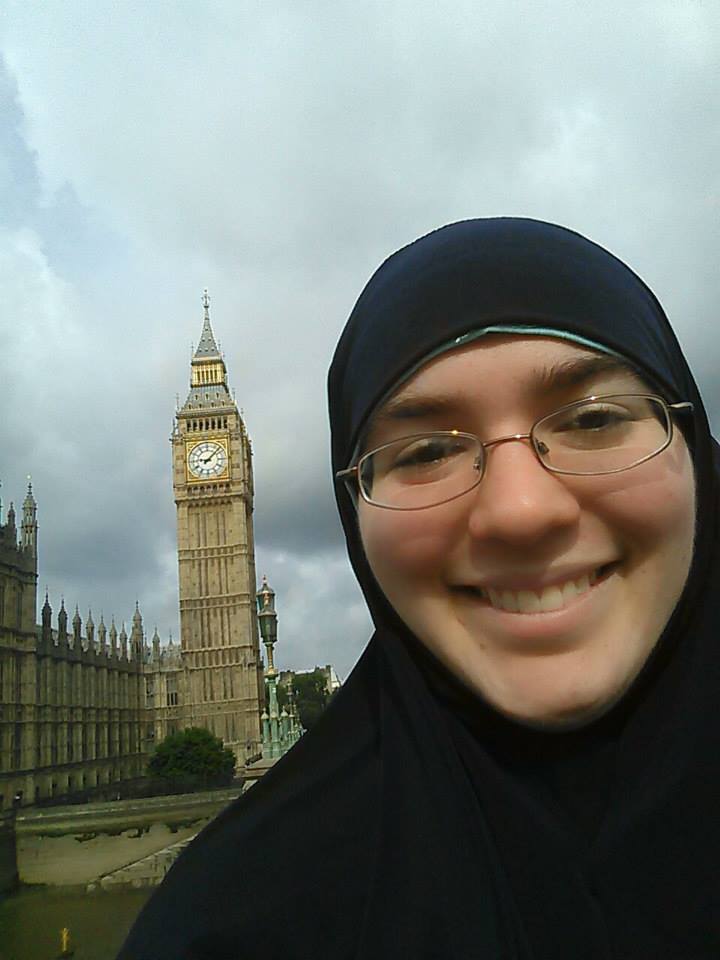 Anne Myers serves as our new part-time Director of Operations at The Women's Mosque of America. She grew up in Albany, New York, and she is a proud graduate of Wellesley College. Anne holds a Masters of Divinity in Islamic Studies, with a focus on Chaplaincy, from Harvard Divinity School. She is also a researcher and writer for AboutIslam.net. Before joining The Women's Mosque of America team, Anne worked for five years at Pinkberry, where she continues to work part-time today. Anne enjoys exploring cities, studying religion, watching Top Chef, and doing crossword puzzles.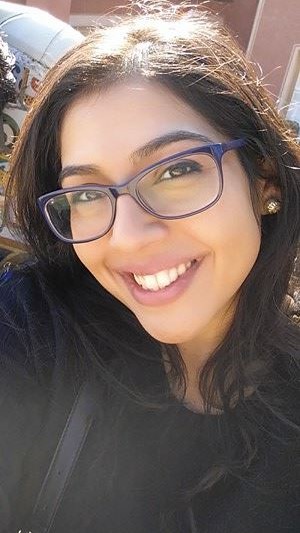 Fatima Dadabhoy's three favorite topics are women's rights, religion – specifically the Constitutional right to freedom of religion and the Islamic principle that there is no compulsion in religion – and cats. Her childhood experience of being bullied for her religion and the post-9/11 backlash against AMEMSA individuals set her on a path to work on behalf of disadvantaged communities. She previously worked as a civil rights attorney for the Council on American-Islamic Relations and currently works as the managing attorney for intake at the Legal Aid Foundation of Los Angeles. Fatima's self-care regimen includes crafting, being out in nature, and watching copious amounts of CW television shows. She one day hopes to open a cat sanctuary.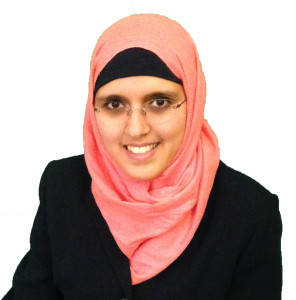 Samia Bano is the author of the forthcoming book How To Make Change Fun & Easy. She serves as the Happiness Expert & CEO of AcademyOfThriving.com, a transformative educational institution dedicated to helping ChangeMakers learn how to change their lives and the world with love.
Samia's expertise in creating change with love is grounded in her academic training and hard won life wisdom.  As a survivor of child sexual abuse, Samia began her quest for inner peace & positive change when she was merely 8 years old. Â After more than 20 years of struggle, Samia successfully eliminated suffering from her life & learned how to take control of her happiness.  She now leads a thriving life full of inner peace, purpose, and prosperity.
The key to Samia's success lies in her learning to create change with love.
One of the most important lessons Samia learned in her journey of transformation from a survivor to thriver is that we are all interconnected, interdependent parts of a whole.  As such we cannot achieve healing and peace for ourselves in isolation or at the expense of others.  Indeed we heal ourselves by healing others.  This understanding led Samia to dedicate her life to the work she is now doing as a Happiness Expert.  Samia's clients say they "feel protected", are able to connect to their passions in life, and experience a "deep sense of peace" as they work with her.  To learn more about Samia's life and work, visit AcademyOfThriving.com.
Hafidha Soheyla Aryan was born in Iran, spent most of her childhood in Europe, and attended the latter half of her schooling in the United States.  She received her Master's in Midwifery from both the USC School of Medicine and UCLA.  Brought up in a family that was not particularly religious, the only connection Sister Aryan had with God was through daily salat. 
It was not until much later in her life, when she was a firsthand witness to one of God's signs, that her heart and eyes were opened to God's undeniable presence in her life.  It was thus with a joyful heart that she set out to learn about this new love of her life, gleaning every morsel of God's beauty and guidance.  Imam Ali's Nahjul Balagha was the first book God brought into her life, and from there, she graduated into studying the Holy Qur'an.  Seeking God through God's word has been her life ever since.  Sister Soheyla now teaches Nahjul Balagha classes at Al-Zahra Mosque and Qur'an classes to students of all ages in the greater Los Angeles area.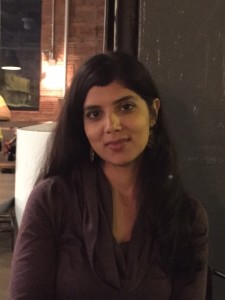 Heba Khan is Staff Editor at the Journal of Feminist Economics, Rice University. She holds an MA in Religious Studies from Rice University. Her research interests focus on the Islamic tradition and include comparative religion, mysticism, poetry, and gender. She has presented widely among communities and organizations in the greater Houston area on the topics of Islam, gender, and religious tolerance.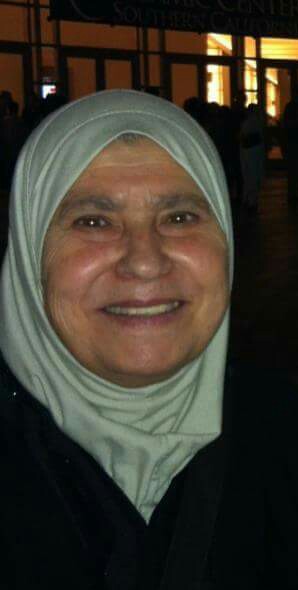 Sister Dalal Hassoun was born and raised in Syria where she lived with her parents and four siblings. Her brother provided her with a solid foundation in Islam and always encouraged her to read, learn, and question everything in order to have a better understanding. The book became her friend and she tried to read as many books as she could to increase her knowledge. She took part in leading the first women-led Islamic halaqas (spiritual study circles) in Syria when she moved to Damascus in 1967, and she continued to attend women's halaqas to increase her Islamic knowledge. She got married when she was 17 years old and had six children whom she raised to have the same passion for knowledge and to pursue higher education. Even though circumstances prevented her from higher education, she continued to pursue knowledge and educated herself in Islamic studies and continued to be a leader in her community. In addition to education, Sister Dalal is also very passionate about helping those in need, and she has led efforts to do so in her community for more than 35 years. She is a student of the nonviolent activist Jawdat Said, and she always spreads his message. Sister Dalal moved to America in 2011 after she participated in one of the first silent women's protests in Syria and had to leave the country for her safety. Since then, she has continued to spread her knowledge and ideas on Facebook. She has posted many opinion pieces such as book summaries and reflections on different topics to help educate others. Sister Dalal continues to advise and help the younger generation through her social media, and her dream is to see peace all over the world.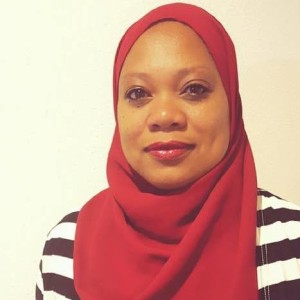 Monica McNeal Boddie is the founder at Magnify Your Message, where she helps experts and entrepreneurs strategize and create their signature product launch content so they can grow their business and impact, with soul. Monica is also co-founder at Her Abundance Sanctuary, San Diego's first sisters' health, wealth, and spiritual wellness community space, Muslimah-focused, not Muslimah-exclusive. She is a writer and a speaker, has contributed to the anthology, "A Far Off Place," and is currently working on her first book. She is a Walkaholic Happy Life Mentor, bringing joy to life, founder of Decide Your Life LLC and creator of "Your Full and Happy Life Rocks!". Monica is also a US Marine Corps spouse of 17+ years, and a mother of four.
Hajjah Abrafi S. Sanyika is a proud native of Chicago, which was founded on the shore of Lake Michigan by an African fur trader, Jean Baptiste Pointe DuSable. She marched with Dr. Martin Luther King, Jr., and listened as a young child to the life-affirming teachings of the Honorable Elijah Muhammad. Even then she knew that there is only One God, because that is what her parents taught at home. She remembers being "thrown out" of Sunday school at age eleven, because she announced that Jesus (pbuh) was not the "son of God", but a great prophet like all the other great prophets. She was exposed to many religious/spiritual traditions growing up and continues to honor the beauty in all of them.
Abrafi euphemistically describes her professional career as "eclectic". She reflects that she is from that generation of women who chose either nursing, teaching, or secretarial work, because other professions were generally foreclosed to women. Originally an anthropology major, she redirected when she got a divorce and had to consider raising two small boys as a single parent. Instead, she obtained a B.A. and M.A. in education. Her M.A. thesis was a study of the cocoa industry of Ghana, West Africa. She first taught at the University of Chicago Lab School, then directed Ujima Family Center, an alternative school in Chicago. Moving to California, she attended UCLA Law School, worked for several attorneys, became a realtor, and eventually returned to professional education.
She is now retired and has published several position papers, including "An Open Letter to the Immigrant Muslim Community." She co-wrote The Eternal Genetic Presence, an anthology of visual artist Nathaniel Bustion's incredible talent; and is the author of Makeda, Queen of Sheba, a children's book written in honor of her daughter, Makeda. She is the founder and director of The Egyptian Repertoire Company, a nonprofit educational foundation that researches, writes, and presents seminars and rituals based on African history and culture, and is currently writing two other books for publication.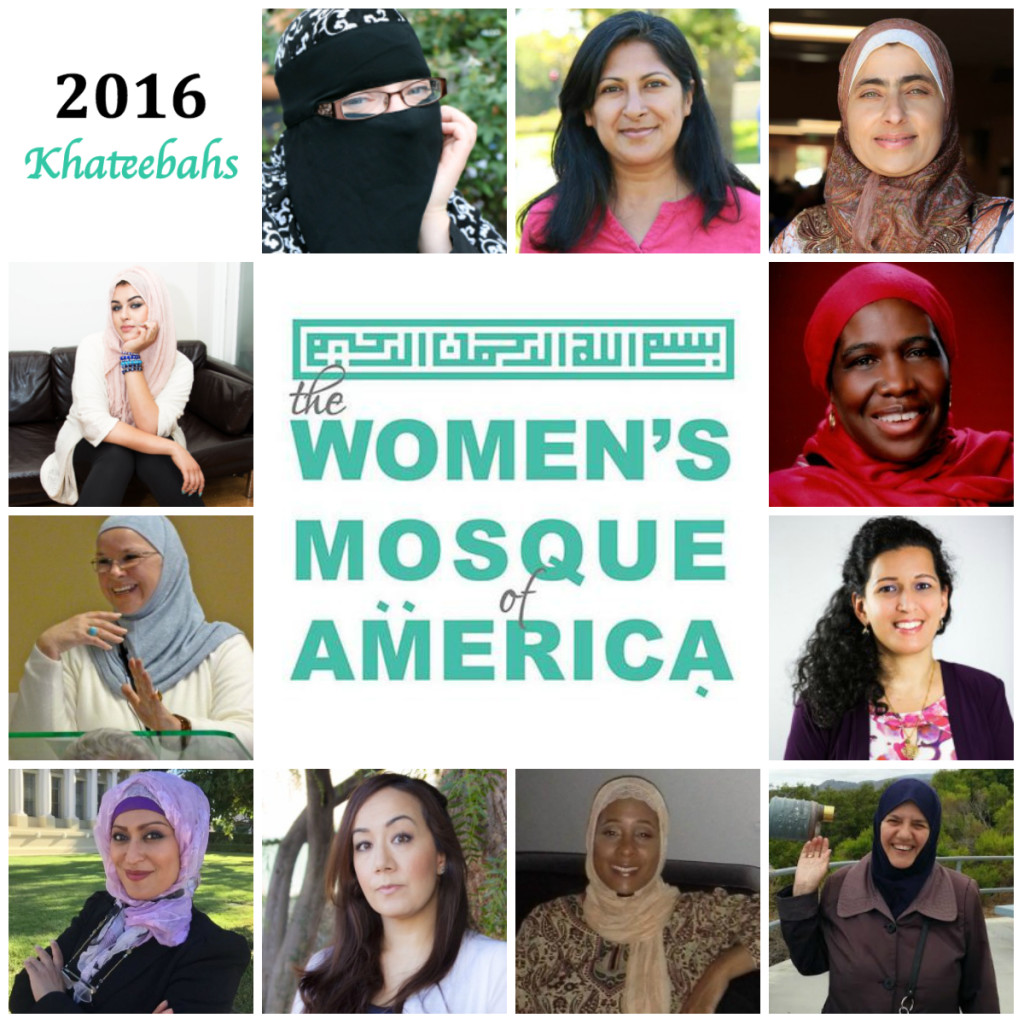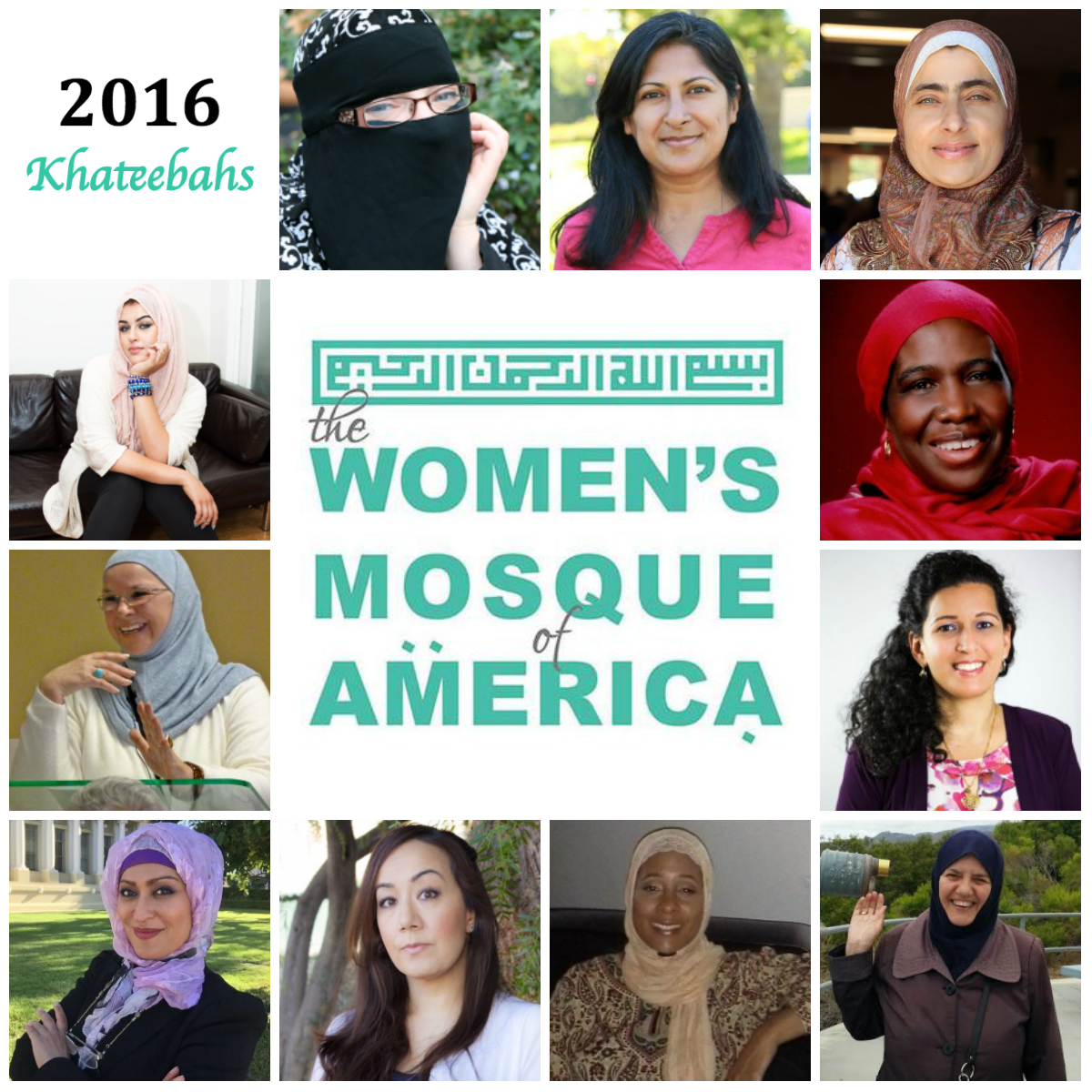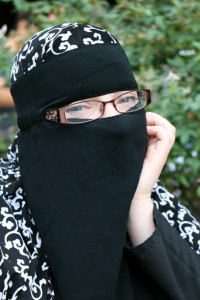 Tuscany Bernier is from Indiana where she lives with her husband and two cats. She was born in Indianapolis, Indiana, and raised in the rural town of Ladoga, Indiana. She converted/reverted to Islam in June of 2012 CE/1433 AH.
Tuscany is finishing up her associates degree in Islamic Studies from Mishkah University and is passionate about cultural diversity and women's studies. In 2014, she published, "It's That Time Again: An Islamic Guide to Menstruation." She's posted several articles all over the web; most of them were published anonymously, but a few were published under her real name on The Tempest.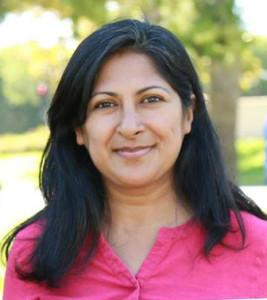 Farrah N. Khan has worked extensively with many community organizations to host events, collaborate on efforts and provide support.  She founded a children's interfaith group, First Drops, in 2011.  The organization provides children (ages 5-13) and their families opportunities to go on site visits to churches, synagogues, mosques and temples throughout Orange County to get a better understanding of one another.  The group partners with a local Church every 4th Sunday of the month to feed the homeless population in Santa Ana.
Farrah has always enjoyed working with the community.  She started by volunteering at her children's school and several non-profits.  She committed to being an active PTA member and has since served on the PTA Board at the Elementary and Middle School level.  She served as PTA President for 3 terms at her sons' elementary school, served on the PTA Board at the Middle School and is currently serving on the School Site Council at the High School.  She and her husband are also Legacy Partners with the Irvine Public School Foundation.
One of Farrah's joys has been serving on the Steering Committee for the Irvine Global Village Festival for the past 6 years.  She is also a proud CERT (Community Emergency Response Team) volunteer with the Irvine Police Department, a program she highly recommends for every resident and business of Irvine.
Farrah currently serves as the Executive Director of the Newport Mesa Irvine Interfaith Council.  Farrah finds great pride in working with the faith communities not only for dialogue, but also to discuss social and economic issues affecting Irvine, Newport Beach and Costa Mesa. 
Farrah was appointed as a Community Services Commissioner in 2014.  During her time as Commissioner, she was the only Commissioner who took the time to get to know the city parks, open spaces, land development, amenities and employees.  She was an advocate for sufficient park space. Farrah just ran for Irvine City Council in the 2016 election as a first time candidate and is proud to have placed 4th out of 11 candidates in a hard-fought race.
Dr. Hadia Al Abdullah was born and raised in Syria where she lived with her parents and five siblings. Her parents provided her with a solid foundation in Islam and always encouraged her to read, learn, and question everything in order to have a better understanding of it. Her mother led Islamic circles, which Hadia always attended, increasing her Islamic knowledge. Hadia holds a Doctoral Degree in Medicine (M.D.) from Aleppo University in Syria and practiced medicine in Damascus from 1992 to 2000. She moved to America in 2000 and continued in the medical field for a year before stopping to raise her three children. She has volunteered in different organizations such as the Islamic Center of Southern California for many years. In the most recent years, Hadia has taught Arabic in both the public and private sector to native speakers and non-native speakers. She is also a volunteer chaplain for hospitals, visiting patients and providing them with spiritual relief. In 2012 she became a part of Bayan Claremont Faculty, and she serves as the program coordinator at Occidental College for the Southern California Arabic Language Teacher Council (SCALTC), a pilot project whose goal is to support the teaching of Arabic in Southern California and to provide resources to Arabic language educators from a variety of institutions.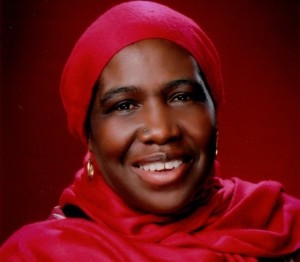 Sister Nayawiyyah Muhammad, mother of six, has spent her lifetime immersed in various aspects of Islamic knowledge and traditions. Having been raised in the Nation of Islam in the Los Angeles area, she was educated and is a graduate of its school system, the University of Islam, from its inception until its transformation into Sister Clara Muhammad School. As an educator, she was a constant participant in the Clara Muhammad School system as a teacher, administrator and director.  
 
Sister Nayawiyyah holds a B.A. and M.A. in Religious Studies, with an emphasis on Ancient and Medieval Judaism, Christianity and Islam. She regularly speaks on college and university campuses on topics concerning Women in Islam, Muslims in America, her experience of growing up in the Nation of Islam (1960-1974), and her subsequent growth as a woman in traditional Islam. Currently, Sister.Nayawiyyah is a professor in the department of Religious Studies at California State University, Long Beach and a Ph. D. student in the Women's Studies in Religion program at Claremont Graduate University. Her primary fields of research engages the intersection of core Islamic rituals and sacred space with gender and sexuality, focused upon her research topics in Islam and the Body; Feminism and Islam; Muslims in America; and Eco-feminist Theology. Sis. Nayawiyyah is part of an on-going team of scholars involved in a Digital Humanities project whose goal is the establishment of a virtual archive of hadith transmissions of the wives of Prophet Muhammad (S). This endeavor seeks to offer commentary, historical timelines, insight into kinship networks and Islamic rituals, thus providing significant applicability for anyone researching women in Islam in general, and the 'Mothers of the Believers' in particular.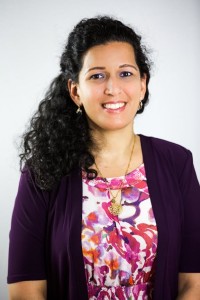 Tasneem Farah Noor is a speaker, facilitator, Life coach, and the author of the book "The Faith Connection: Your Journey Starts with Knowing Yourself." She has her Masters in Education from UCLA; and her coaching certification from the Life Mastery Institute. She has worked on university campuses like UCLA and Cal State LA. After a rewarding career in higher education for seven years, Tasneem transitioned to Life coaching and facilitating interfaith dialogue as her full-time career. She is the lead Muslim facilitator for NewGround: A Muslim Jewish Partnership for change, and sits on five different interfaith boards including the Interfaith Council at the Islamic Center of Southern California. Prior to moving to Los Angeles, CA in 2000, she lived in India, Pakistan, and Dubai.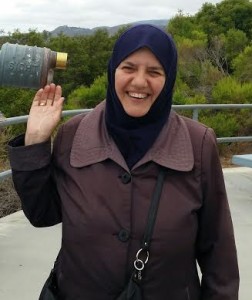 Anse Susan Mouallem was born in Syria. Her father is from Damascus and her mother is from England. Susan grew up in the vibrant, diverse city of Damascus and studied pharmacy at the University of Damascus. Her passion however was for the scholarly learning of Islam. Since she was in high school, she took an interest in learning more about Islam. She studied Quaran, Tafseer, Hadeeth, Tajweed, and Fiqh, among other subjects, with a number of Damascus's leading women scholars. She received a certificate of Tajweed (Ijazah) in reading the Qur'an from Al-Sheikh Muhedeen Kurdi. For 30 years, Susan has been studying and teaching Islamic studies in Damascus, England, and Saudi Arabia to young children, women, and converts. Susan's main other passion is working with young children. She taught for 10 years at Damascus's Dar Al-Farah (Home of Joy) School. She currently lives in Damascus, Syria, and visits her children and her grandchildren living in the UK and the US.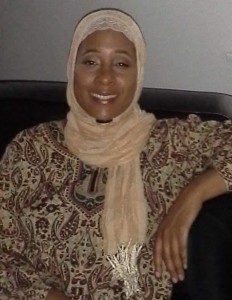 Kenyatta Bakeer-Allgood was born and raised in Los Angeles. Over the past 45 years, her parents have been instrumental in building the foundation of Islam in Los Angeles, having both been educators who helped start and teach in Mohammad Schools and Sister Clara Muhammad Schools. Kenyatta holds a BA in Child Development and an MA in Early Childhood Education. She is in the initial stages of beginning her PhD in inter-religious studies at Bayan Claremont Institute. Kenyatta currently serves as a Child Development Professor for the Los Angeles Community College District and National University as well as a consultant for child care centers and programs. Kenyatta attributes her strong foundation in Islam to her attendance of a Muslim school and her parents' instruction to seek knowledge from the cradle to the grave. Kenyatta's parents encouraged her to study religions other than her own and to learn about all types of people, which sparked her interest in interfaith work. She and her husband Marcus are members of LA Voice, an interfaith organization that has over 55 congregations and has been instrumental in changing Los Angeles for the better, such as helping pass Proposition 47, which reduces 6 low level felonies to misdemeanors and  gives people resources to help them in their overall life. Kenyatta currently serves as Secretary on The Women's Mosque of America's Board of Directors, and she serves as a member of the SoCal Muslim/Jewish Forum.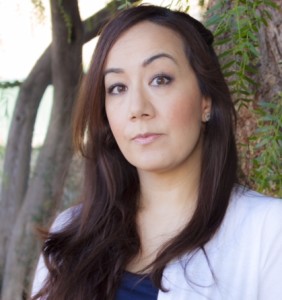 Sabina Khan-Ibarra is the founder of Muslimah Montage, a platform for Muslim women to tell their own stories. Sabina and her website, Muslimah Montage, have been featured on Buzzfeed, The National, The Chicago Monitor, and NBC News. Sabina is also an assistant editor at AltMuslimah and GiveLight Foundation. She is the Member Development Chair at MuslimARC, an organization that addresses and combats intra-Muslim racism. In 2011, to commemorate the loss of her young son, Sabina created Ibrahim's Tree, an internet website devoted to stories on dealing with grief. She also writes and speaks about grief in Muslim communities. Her work has been published on BlogHer, Huffington Post, ISNA Horizons, InCulture Magazine, AltMuslimah, Love InshAllah, Patheos (AltMuslim), Brown Girl Magazines, and many other outlets.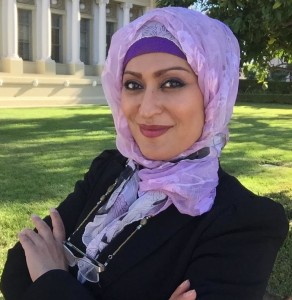 Born and raised in London where she practiced law, Sarah Nadeem moved to California with her daughter in 2012. Soon after, Sarah's maternal aunt passed away, which instigated a deep shift in her attitude towards Islam and ultimately brought her deeper in her faith. She now occasionally composes and sings songs in praise of Allah, as well as recites and studies the Qur'an. She also supports and attends the New Muslims Group in Southern California. From 2012 to 2014, she worked with United Central Bank. In 2015, she worked at Helping Hand, a subsidiary of ICNA, where she raised funds for orphans and cleaning water. She recently passed the California Bar Exam and now practices as an Attorney in Wills & Trust, Immigration, Employment, and Real Estate.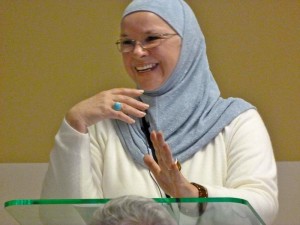 Sister Noor-Malika Chishti has been involved in interfaith work for over 40 years. Her training—beginning in 1972—in the Inayati Order introduced her to the diverse ways in which people approach spiritual practice. In 1999, she began exploring the Islamic roots of Sufism and, on the Night of Laylat al-Qadr, accepted Islam. Today, she serves as Vice President of reGeneration, an American interfaith non-profit organization that advances quality early childhood development and education in the Middle East, building bridges locally to effect sustainable change for future generations. Sister Noor-Malika is also a founding member of the Southern California Muslim-Jewish Forum, an umbrella body focused on strengthening Muslim-Jewish ties in Greater Los Angeles, and she is a founding member and Vice Chair Emeritus of the Southern California Committee for the Parliament of World Religions (SCCPW). She has been a member of the West Los Angeles Cousins group, where Jewish and Muslim women meet to engage in dialogue and service, for 13 years. Sister Noor-Malika's professional background was in the non-profit sector before she retired to become an administrator for the Crossroads School for the Arts & Sciences in Santa Monica, CA. She is a recipient of the "Golden Heart Award" of the Inayati Order "in recognition of [her] vital efforts in the service of the Message of Love, Harmony and Beauty." In 2008, she founded Musallah Tauhid, where Sufi Muslims from different orders share a sacred space with a Jewish and Christian congregation in which they work to come to know one another and protect the environment. She is also a grandmother and a poet.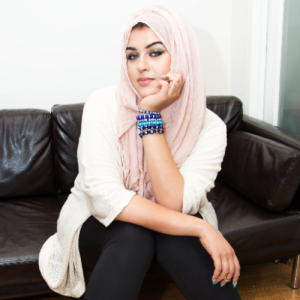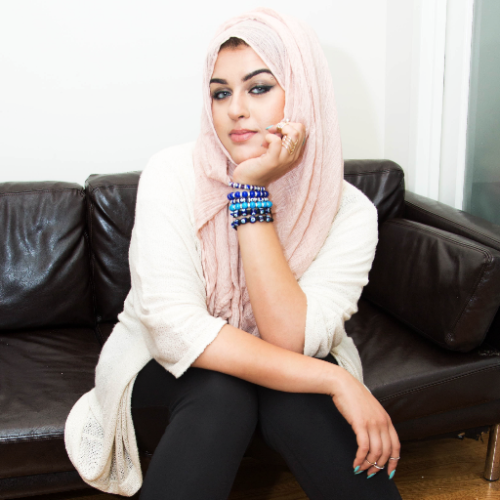 Amani Al-Khatahtbeh is the founder and editor-in-chief of MuslimGirl.net, the leading online magazine for American Muslim women. Reclaiming the Muslim women's narrative in Western media with its own unprecedented columns in outlets like Teen Vogue, Fortune, and Huffington Post, MuslimGirl is currently forging a new path by becoming the forefront of Muslim women's issues in mainstream coverage. Amani made the annual Forbes 30 Under 30 list for 2016, making her the first Muslim woman to be honored in the media category and MuslimGirl the first Muslim company to ever receive the recognition.
Amani is a rising voice in social, religious, and political issues, regularly appearing in such media outlets as CNN, BBC, and more. She currently writes a column for Forbes, in which she chronicles the startup journey of MuslimGirl from the perspective of a millennial woman of color entrepreneur. Amani was the first Palestinian-American to be elected as the opinions editor of The Daily Targum, which resulted in a nationwide controversy over her censorship. She is a human and civil rights activist and was one of the student organizers to force out former Secretary of State Condoleezza Rice from her commencement invitation at Rutgers University in 2014. Amani has been profiled in The New York Times, CNN Money, VICE's Broadly, and beyond.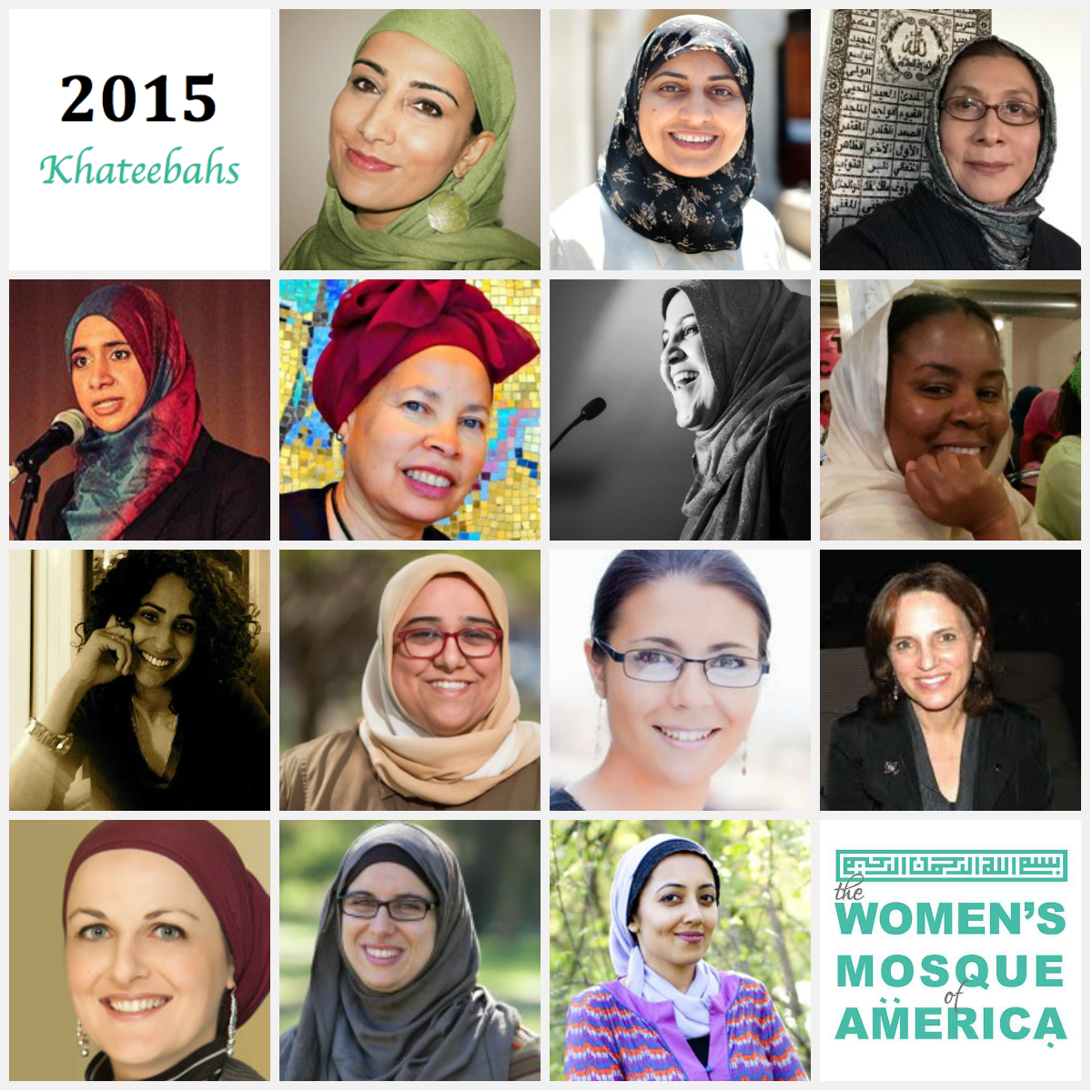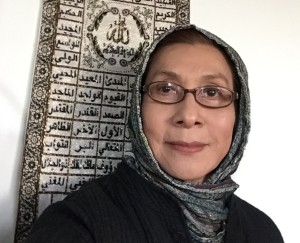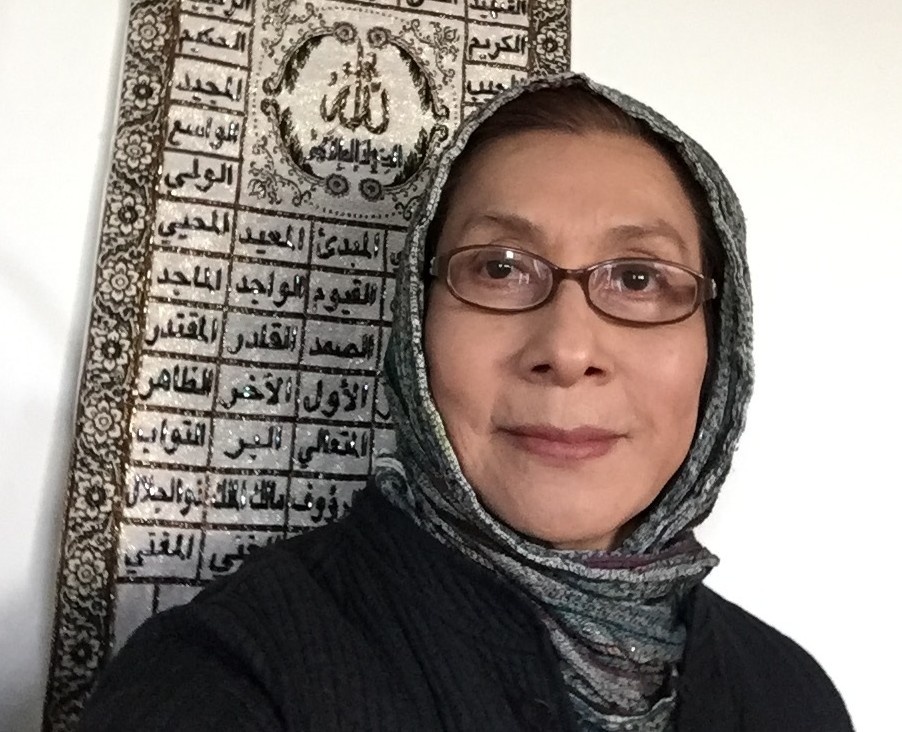 Sister Marta Felicitas Khadija Galedary was born in Mexico and embraced Islam in 1985. She earned her Baccalaureate in Humanities, Mexico City, and is a former Nursing Director at the UMMA Clinic in Los Angeles. She is the founder of LALMA (Latino Muslims Association) where she started the first dialogue among Latino Muslims and Catholic youth and is their current Advisor. Sister Marta also works with LA Voice, a faith-based group to preserve human dignity and social justice. She spoke at the First International Conference of Ibero-Latino Muslims in Seville, Spain, the International Citizens Muslim dialogue sponsored by the USA State Department in Spain and Australia, and MuslimARC (Anti-Racism Collaborative) training.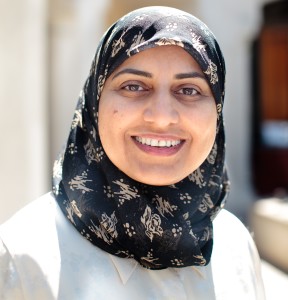 Sister Shabnam Dewji is a Senior Operations Consultant providing strategic and tactical assessments to large and medium size businesses. Until recently, she was the Vice President of Operations for the West Region at Time Warner Cable Media, overseeing the technical and master control operations for ad insertion; IT and software development for all media tools and applications; traffic and inventory management supporting sales; and regional engineering support for product implementation.
Sr. Shabnam has a business management background with a degree from the London School of Accounting and in 2010 completed an Exectuve Leadership Development Program at UCLA's Anderson School of Management. She was the recipient of the 2011 LEA (Leadership, Education and Advocacy) Awards where she was honored as Woman of the Year by Women in Cable Telecommunication (WICT). Shabnam was born in Zanzibar, Tanzania and grew up in Dubai. She lives in Orange County, CA with her husband and three children and has been an active member of her Muslim community for the past 28 years, having served as Treasurer and Vice President of SIIJLA, a local Islamic Center in Pico Rivera.
Sr. Shabnam Dewji is currently in her 12th year as the principal of the Huseini Sunday School and has been a teacher for 25 years. In June 2015, she received her certification in Neuropsychology of Learning to ensure that the teaching methods at the schools shift to student centered learning. She is also active in the Social Interfaith group to promote interfaith and intrafaith understanding in the Orange County area and works closely with Chapman University's Fish Interfaith Center under the leadership of the Dean, Dr. Gail Stearns.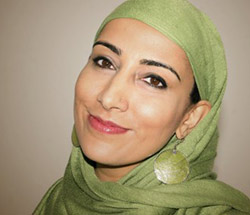 Dr. Najeeba Syeed is a professor at the Claremont School of Theology and director of the Center for Global Peacebuilding. She is recognized as a leader in peacebuilding and twice received the Jon Anson Ford Award for reducing violence in schools in the area of interracial gang conflicts. Dr. Syeed was named Southern California Mediation Association's "Peacemaker of the Year" in 2007. She has chaired national conferences on Muslim and Interfaith Peacebuilding, has served as a mediator in many cases, and has started mediation programs in several institutions including the University of Southern California and several middle and high schools. Schools have reported a significant drop in disciplinary referrals and violence after her involvement. Dr. Najeeba Syeed's track record as a peacemaker has made her a sought out advisor for state, federal, and White House initiatives, and in international conflicts in Guam, Afghanistan, Israel, Palestine, India, and France.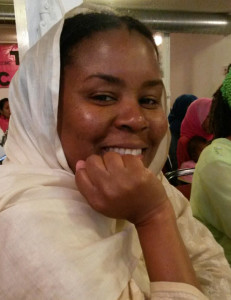 Kameelah Waheed Wilkerson is a Licensed Marriage and Family Therapist with 16 years in the mental health field. Kameelah currently works in Quality Management with a large non-profit child welfare organization ensuring quality of care and services to youth and their families. Kameelah has served on the board of Directors at Masjid Al-Taqwa for the past 10 years, and she utilizes her position on the board to address issues of importance to the community. Kameelah works within the Muslim community toward the goal of promoting wholeness and integration of the spiritual, emotional and social self.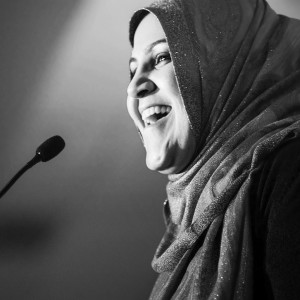 For nearly 20 years, Ustadha Hosai Mojaddidi has been actively involved in the Muslim community in the San Francisco Bay Area and Southern California, working and volunteering for several organizations including Peace Terrace Academy, Islamic Networks Group, Zaytuna Institute, Deen Intensive, Northstar School, (RIS) Reviving the Islamic Spirit, One Legacy Radio, Pillars Academy, Islamic Speakers Bureau of Southern California, Grand Mawlid, Sacred Caravan, Rahmah Foundation, GiveLight Foundation, Celebrate Mercy, and Happy Hearts Learning Co-op. With the various positions she's held, and as a Qur'an teacher and lecturer over the years, Ustadha Hosai has been blessed to meet thousands of Muslims from different backgrounds and, in the process, develop many deep and lasting relationships both personally and professionally. She has also been able to gauge the mental health issues of the larger community firsthand by serving as a private mediator, advisor and mentor to many.
 
Ustadha Hosai is currently the co-founder of MH4M, co-founded by Dr. Nafisa Sekandari. Together, they develop content about mental health that is unique and tailored for the Muslim community, combining sound Islamic teachings with well documented clinical science. She lives in Southern California with her husband and two young sons.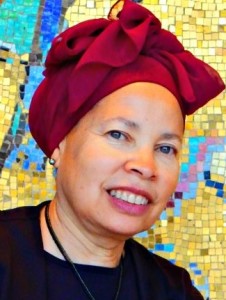 Gail Kennard was raised in Los Angeles and learned about Islam as a high school student when she read the autobiography of Malcolm X. She accepted Islam while in graduate school at UC Berkeley, and she has been active in the Muslim communities of San Francisco, San Diego, Atlanta, and Los Angeles.  
For the past 20 years, Gail has been president of the architectural business founded by her late father, Robert Kennard, in Los Angeles. The firm designs public buildings, transit and utility infrastructure projects. The company, Kennard Design Group, is the oldest African-American-owned architectural practice in the western United States.
Gail earned her undergraduate degree in Communications from Stanford University, a master's degree in Journalism from UC Berkeley — and for the past 60+ years, she has been struggling to earn her post-graduate degree in this life under the guidance of Allah, subhanna wa ta'allah.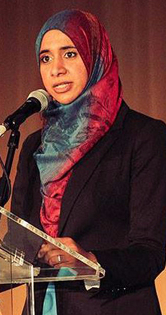 As the Executive Director of CAIR (Council on American-Islamic Relations) San Francisco Bay Area, Zahra Billoo strives to promote justice and mutual understanding. Zahra joined CAIR-SFBA in 2009, and immediately embraced her roles as community organizer and civil rights advocate. She frequently provides trainings at mosques and universities as part of CAIR's efforts to empower the community, while building bridges with allies on civil rights issues. Zahra also represents victims of discrimination and advocates for policy changes that uphold civil rights for all.
A 2014 recipient of the National Lawyers Guild SF Bay Area Chapter's Unsung Hero Award and a 2013 recipient of the South Asian Bar Association of Northern California's Trailblazer Award, Zahra came to CAIR with a background in employment and labor rights advocacy.
In college, she worked with the California Faculty Association on issues including faculty salaries and the defunding of public higher education. In law school, she was awarded the Peggy Browning Fund Fellowship to work on the National Employment Law Project. Zahra graduated Cum Laude from CSU Long Beach with degrees in Human Resources Management and Political Science. She earned her J.D. from UC Hastings College of Law, and was admitted to the California Bar in 2009.
Dr. Laila Al-Marayati has been an activist in the American Muslim community for many years, having co-founded the Muslim Women's League (MWL), an organization dedicated to strengthening the role of Muslim women in society. She spearheaded the MWL's efforts on behalf of rape survivors from the war in Bosnia and was a member of the official US Delegation to the UN Conference on Women in Beijing.  She also served as a Presidential Appointee to the US Commission on International Religious Freedom. Her activism is centered around women's rights in Islam, reproductive health and sexuality, and violence against women. As the chairperson of KinderUSA, Dr. Al-Marayati helps provide humanitarian assistance to Palestinian children in the West Bank, Gaza and Lebanon. Currently, she is the Medical Director of Women's Health at a community clinic in Los Angeles and is an Assistant Clinical Professor at the Keck School of Medicine of USC.
Aziza Hasan has extensive experience in program management and coalition building. She has worked with diverse groups to deliver quality programming that developed the skills of its participants in the areas of civic engagement, advocacy, service learning, leadership, conflict transformation and diversity training. Aziza is a founding director of NewGround: A Muslim-Jewish Partnership for Change. An experienced mediator and conflict resolution practitioner she has co-facilitated multiple fellowship cohorts. A successful model of genuine engagement, NewGround has been featured on Public Radio's "Speaking of Faith" with Krista Tippett, the Unites States Institute for Peace, Arabic Radio and Television, the LA Times, the Jewish Journal and InFocus.
Aziza is experienced in Small Claims Court mediation, coaching individuals and leading groups in conflict resolution. Her two years of AmeriCorps service gave her hands-on experience in community organizing and group problem-solving. She has appeared on CNN, ABCnews, Fox 11, LA City View 35, National Public Radio, and KCRW. Print media coverage of her work may be found in The Mennonite, AltMuslimah, The Wichita Eagle, The Newton-Kansan, The Halstead Independent, Hutchinson News and The Bethel College Collegian.
Eman Hassaballa Aly works for the Health Media Collaboratory (HMC) at the University of Illinois at Chicago (UIC). She is a digital strategist and a research specialist. In her role at HMC, she devises and executes social media and digital media strategies. In addition to program evaluation, Eman also conducts social data research and has been published in peer-reviewed journals. She is an expert in all things social media and has consulted for several projects and campaigns at the local and national level in the American Muslim community. She is a serial tweeter and texter, and she is fascinated by the way social media has changed the way people interact with each other.
Eman also holds a master's degree in social work from UIC. She works part-time for the Heartspeak Institute, a private practice that serves the Chicago Muslim community. She has conducted trainings on marriage and developed a workshop called "Parenting in the Age of Social Media." Currently, she is pursuing her master's degree in Islamic Studies at the American Islamic College and hopes to serve as a chaplain in the university setting, and in a perfect world, she would love to continue her work in research. Eman loves to explore the way butter and salt transform food and loves to talk about her belief that mangoes are proof of God's existence.
Sumaya Abubaker serves as project manager for the USC Center for Religion and Civic Culture. For over eight years, she has managed many of the Center's civic engagement leadership institutes for minority faith communities including the American Muslim Civic Leadership Institute.
Prior to joining CRCC, she worked for Wells Fargo Bank, the Council for Islamic Education and The Minaret magazine. She spent many years on the board of ELEV8, a nonprofit designed to empower youth with the tools to engage in activism through the arts. Sumaya is a fellow of NewGround, a program that engages diverse groups of Muslim and Jewish Angelenos in an innovative community-building process of intra- and inter-faith education and reflection, leadership training and civic engagement.
Sumaya is also co-founder of the Rahma Network, an organization established to assist American Muslim communities in addressing sexual violence and abuse. She is a survivor herself and through her involvement in the Rahma Network, she works with survivors, builds resources and conducts speaking engagements on how to prevent and address sexual violence and abuse.
She received her BA from the University of California, Los Angeles, where she studied international development with a specialization in the Middle East/North Africa and sub-Saharan Africa.
Sarah Jawaid is a community organizer with LA Voice, a non-profit affiliate of the PICO National Network, where she does faith-based social justice organizing and leadership development in Los Angeles. She has worked on policy change for affordable housing issues, economic opportunity, and criminal justice reform—the most recent win being the passage of Proposition 47, a state-wide ballot initiative to redirect money from prisons to schools. Sarah worked on national transportation policy at the Brookings Institution and the Urban Land Institute and affordable housing advocacy at the National Housing Conference. During this time, she was the Director of Green Muslims, a group started to raise awareness of environmental issues within a Muslim context. Jawaid is also an artist who has exhibited work in several shows and galleries. Her work can be seen at sarahjawaid.com. She has a B.S. from the University of Southern California in Public Policy and a Master's degree from UC Irvine in Urban Planning. She resides in Los Angeles with her husband.
A recent transplant to Southern California, Dr. Rose Aslan is an Assistant Professor of Religion at California Lutheran University in Thousand Oaks. She teaches courses on Islam, Global Religions, and the Abrahamic Traditions in Comparative Focus. Her research focuses on the construction of sacred space, ritual, and pilgrimage in medieval Iraq and other medieval and contemporary Islamic contexts, including America. She is also active in inter-religious engagement in various communities.
Dr. Aslan received her PhD in Religious Studies from the University of North Carolina, Chapel Hill, with her dissertation on the shrine of Imam Ali in Najaf and Sunni-Shi'i debates and Shi'i pilgrimage rituals at Ali's shrine. She received her MA in Arab Studies from the American University in Cairo, and her BA in Near Eastern Studies from the University of British Columbia.
After listening to an inspiring first khutbah by Edina Lekovic, who challenged the congregation to step up and into more leadership roles, Dr. Aslan was the congregant sitting in the audience who rose to the challenge and decided to volunteer to give the next khutbah, as she had written khutbahs for men before but had never once delivered her own.
Edina Lekovic is MPAC's Director of Policy and Programming, where she oversees strategic initiatives in government and policy, media and communications, and leadership development. From 2004-2010, Edina served as MPAC's Communications Director, and has appeared regularly in major media outlets, including CNN. MSNBC, Fox News, CBS Television, the Wall Street Journal, Washington Post, Associated Press, Chicago Tribune, and Los Angeles Times.
A recent appointee to Los Angeles Mayor Eric Garcetti's Service Cabinet, Edina has been committed to promoting relationships between diverse Angelenos for nearly 15 years. As a co-founder and the current chair of NewGround: A Muslim-Jewish Partnership for Change, Edina is proud to have been part of a impactful program who's high school dialogue program was named Gov. Jerry Brown's top interfaith group in 2013.
Edina joined the faculty of Bayan Claremont, part of the Claremont Lincoln University, as an Adjunct Professor in Fall 2013, where she teaches "Religious and Spiritual Leadership in a Muslim Context." Edina has spoken in hundreds of national and international conferences, community events and interfaith dialogues on a variety of issues related to American Muslims. She has also had the opportunity to participate in a United Nations program on "Confronting Islamophobia" and the International Conference of Muslim Young Leaders, which served as a precursor to the annual conference of the Organization of Islamic Conference (OIC).
She is co-founder and graduate of the American Muslim Civic Leadership Institute and also co-founded Elev8, an arts-based youth leadership development program. She has an M.A. in Communication from Pepperdine University and a B.A. in American Literature & Culture from UCLA, where she also served as the Editor in Chief of the Daily Bruin.